By Werner Willis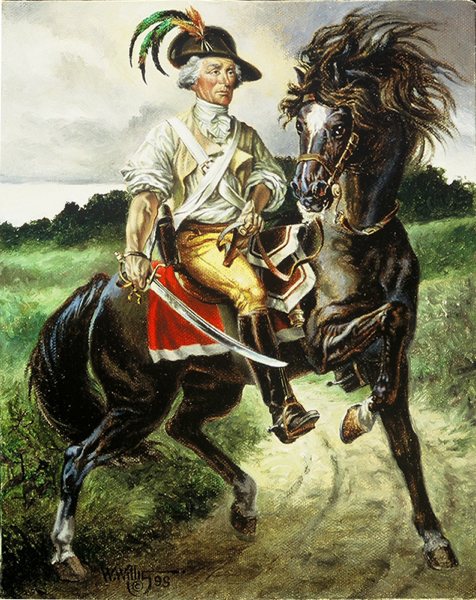 Open Edition Paper 8″ X 10″
Thomas Sumter
"Carolina Gamecock"
As patriot sentiment smoldered, Sumter caught fire with the spirit of independence. He was elected to the first and second provincial congresses and became Captain of a company of mounted rangers and served in the Snow Campaign to crush Tory resistance in the backcountry. Appointed Lieutenant Colonel of the 2nd Regiment of Riflemen, Sumter recruited among the backwoodsmen and Catawba Indians of the Carolina frontier to fill the ranks. Sumter and his troops actively campaigned yet missed being involved in army battlefield action. In 1778, Sumter resigned his commission and returned to his home.
When news arrived on May 28, 1780, that the British were marching his way, Sumter and his African body servant, Soldier Tom, saddled their horses and rode off to rejoin the war. British soldiers arriving at Sumter's home carried his wife onto the lawn in her chair and torched the house.
Sumter recruited a patriot militia force to wage a guerrilla war against the British. With him the issue was always "Liberty or Death". Light Horse Harry Lee wrote that Sumter was "Enchanted with the splendor of victory, he would wade in torrents of blood to attain it."
Sumter recruited his men by offering payment in slaves and loot depending upon their rank. Sumter's Law which encouraged plunder was condemned and became curse to Sumter after the war. He died in 1832 at age 98, the last surviving general of the American Revolution.
Portrait of Sumter taken from the original by C. W. Peale