By Werner Willis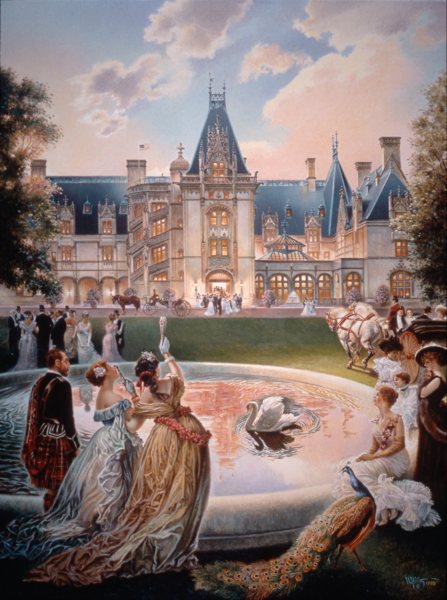 SN Paper Lithograph Edition of 950 size 19 1/2″ X 25″
Biltmore Celebration
Asheville, North Carolina
The Gilded Age was a period of colossal prosperity that began in the 1870's and lasted until the Great Crash of 1929. It was a time of opportunity that rewarded ambition, hard work, and imagination with immense amounts of wealth, and produced heretofore unheard of success stories. Among the blue bloods of Europe were the newly rich and powerful Americans, including the Vanderbilts, Astors and Rockerfellers, who created an atmosphere of competitive castle-building, art collecting and extravagant entertaining. Grand balls and unbelievable parties were given by these wealthy hosts to meet the "who's who" of society, display their prosperity, and establish a new aristocracy.
The Biltmore Estate was the vision of George Washington Vanderbilt, and he enlisted architect Richard Morris Hunt to turn vision into reality. The 255-room Gothic chateau was Hunt's last great building and remains the largest private dwelling ever constructed in the United States. The name was derived from "Bildt", the Dutch village where the family originated, and "more", an Old English word for rolling upland countryside. The work on the chateau began in 1888, and during construction Vanderbilt and Hunt traveled throughout Europe to collect the antique treasures and art that furnish the house. Hunt then asked Frederick Law Olmstead to landscape the 125,000 acres surrounding his architectural masterpiece. On Christmas Eve, 1895, George Vanderbilt opened his grand Asheville estate with a glittering week-long celebration for his family and over 300 guests and employees.
A bachelor during these first few years at Biltmore, Vanderbilt married Edith Dresser and together they brought about improvements to the surrounding area. He instigated modern farming techniques along with scientific forestry management, while Edith Vanderbilt took an interest in the well being of the local families and assisted in apprenticing their skills in mountain crafts. Their country home was a self-sufficient, working estate as well as a spectacular residence for elaborate entertaining.