By Werner Willis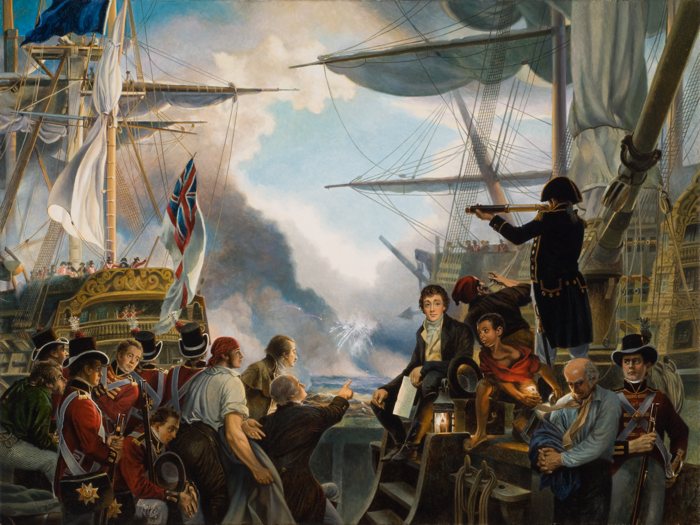 SN Giclee Canvas Edition of 200 size 40″ X 30″
SN Giclee Canvas Edition of 350 size 34″ X 25 1/2″
SN Paper Giclee Edition of 300 size 20″ X 15″
Open Paper Lithograph size 20″ X 15″
Dawn's Early Light
Baltimore, Maryland 1814
Francis Scott Key, a thirty-two year old lawyer from Washington, D.C., had official papers from President Madison to acquire the release of Dr. William Beans who was being held captive aboard the British admiral's flagship. The British fleet was preparing to move against Baltimore and their first objective was to destroy Fort McHenry. Friends of the doctor were very concerned for his safety.
On September 13, 1814, Key and his friend Col. John S. Skinner hired a sloop to sail them across the Chesapeake Bay to the admiral's warship. They boarded the frigate under a flag of truce and were courteously received by the admiral. The papers they presented stated that the doctor was not a soldier, but a private citizen who had treated American and British casualties alike.
The admiral considered the facts and released the doctor, but ordered the three men back to their sloop under heavy guard. They were told not to make any effort to sail until the British had reduced Fort McHenry to ashes. As he left, it is said that Key was told to look well at the Star-Spangled Banner at sunset, because it would be gone in the morning.
The bombardment began moments later and lasted all night. Key and his companions could only peer into the dark for an occasional glimpse of the flag streaming in the light of exploding bombshells and rockets.
In the "dawn's early light" of September 14th, as the fog lifted and the smoke cleared, the men saw that "the flag was still there." Quickly pulling an old envelope out of his pocket, Francis Scott Key wrote down the words he had been contemplating all night: "Oh say, can you see?"
Portrait of Francis Scott Key taken from the original painting by Joseph Wood