By Werner Willis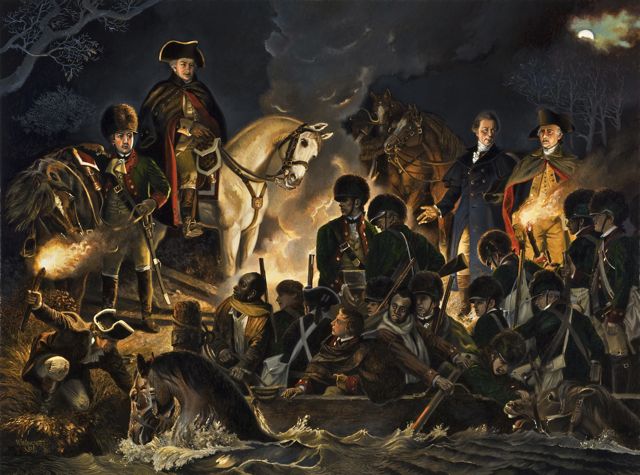 Limited Edition Giclee Canvas of 75 size 40″ X 30″
Open Paper Lithograph size 20″ X 15″
Major General Nathanael Greene Saves The Army
Halifax County Virginia, February 14, 1781
A division of what was left of the Southern Continental Army, under the command of Major General Nathanael Greene, defeated Colonel Banister Tarleton and his seasoned, well-trained, and well-equipped British cavalry and infantry at Cowpens, S.C. on January 17, 1781. The mixed force of militia and regulars, under the command of Brigadier General Daniel Morgan, gave General Cornwallis and the British army a black eye, and General Greene the first military victory for the South. Cornwallis was so vexed that such a meager army could embarrass him that he made a vow to finish Greene and his rag tag army once and for all.
Greene, hearing about Cornwallis' determination, assessed his army and feared making a stand would be flirting with calamity. And so the race for the Dan River and the safety of Virginia was on. He sent orders to Lieutenant Colonel Edward Carrington to secure any and every floating device that could bring the army and supplies across the rain-swollen river. Greene then instructed Lieutenant Colonel Henry "Light Horse Harry" Lee (the father of Robert E. Lee) to be his rear guard until all had crossed the river.
Werner has captured the moment at 9:00 on a bone-chilling soggy night in February as Henry Lee and his unit are the last of the army to cross the Dan. In the light of the camp fires, a triumphant Greene and his second in command, Colonel Otho Williams, are extending their congratulations to Lee and Carrington for their well-executed effort.
The actual portraits from left to right:
Col. Henry Lee (Light Horse Henry) – C.W. Peal
Major General Nathanael Greene – C.W. Peal
Col. Otho Holland Williams – C.W. Peal
Col. Edward Carrington – Library of Congress