By Werner Willis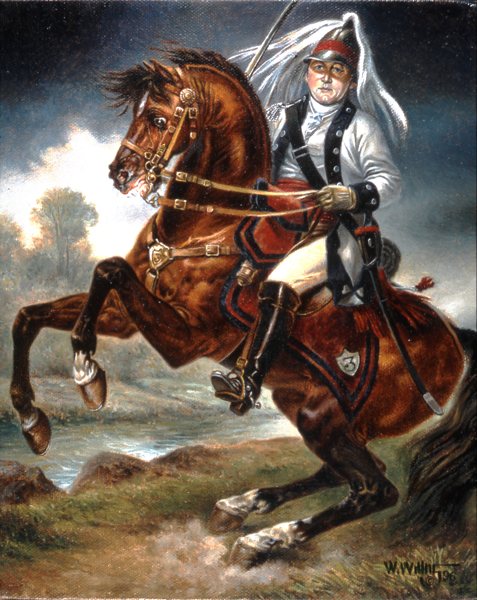 Open Edition Paper 8″ X 10″
Lieutenant Colonel William "Billy" Washington
One of the outstanding patriot leaders of America's war for independence was a daring young cavalryman named William Washington, a distant cousin of General George Washington. Henry "Light Horse Harry" Lee, another cavalry leader, described William Washington as a man of "a stout frame, being six feet in height, broad, strong, and corpulent… in temper he was good humored… bold, collected and persevering, he preferred the heat of action…" William Washington demonstrated this preference by becoming one of the most experienced combat veterans of the American Revolution.
Immediately following the change of command in Charlotte, North Carolina, where Nathanael Greene replaced Gates as commander of the patriot forces in the South, Washington's dragoons moved into South Carolina where they surrounded a body of loyalists under Colonel Henry Rugeley in a fortified barn at his mill near Camden, South Carolina on December 4, 1780. Although Washington lacked artillery, he was not lacking in imagination. He constructed a fake cannon from a log and wheeled it into position. The loyalists fell for the ruse and surrendered.
Greene detached Washington's cavalry force to Daniel Morgan where they played a major role in the battle at Cowpens, South Carolina, on January 17, 1781. At a crucial moment in the battle, Washington's cavalry charged forward and Tarleton and Washington found themselves engaged in a saber duel which left both leaders wounded.
Washington's cavalry proved invaluable to Nathanael Greene throughout the remainder of the Sothern campaign. The Washington Light Infantry Corps in Charleston still possess an 18 inch square flag of damask color, cut from the back of a chair, which was presented to William Washington by his fiance Jane Elliott. Washington's small band of patriots played a key role in securing American independence when they followed their leader into the heat of action.
Portrait of Washington taken from the original painting by C.W. Peale