By Werner Willis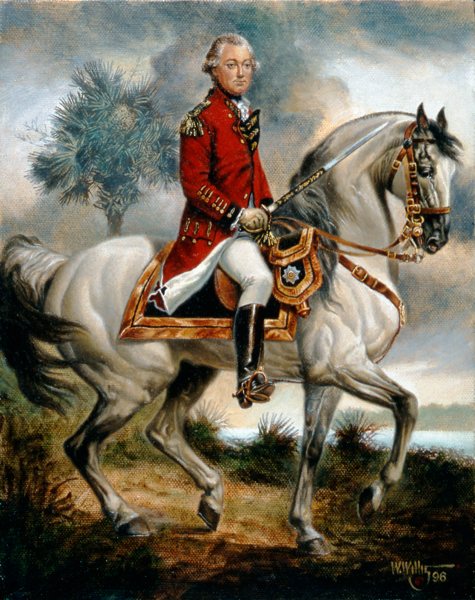 Open Edition Paper 8″ X 10″
General Charles, first Marquis and second Earl Cornwallis
"Commander of British Forces"
A brave and aggressive commander, General Cornwallis was outwitted by the American leaders during the Revolutionary War costing the British their effort to win the war through a southern campaign. He had dealt a major blow to patriot hopes by defeating General Horatio Gates' army at Camden, South Carolina, on August 16, 1780. However, British efforts to break further rebel resistance were frustrated as the British army was drawn further into the interior away from Charleston and naval supply lines. Cornwallis' army was scattered at isolated outposts across South Carolina where they were constantly ambushed and harassed by partisan forces led by outstanding guerilla leaders with colorful nicknames like "Swamp Fox" Francis Marion, "Gamecock" Thomas Sumter, and "Wizard Owl" Andrew Pickens.
When the American army reentered North Carolina from Virginia, Cornwallis engaged them in battle at Guilford Courthouse on March 15, 1781. Cornwallis defeated the Americans at cost of almost one third of his army killed or wounded. The British army could ill afford another such victory.
In violation of Clinton's orders, Cornwallis now chose to invade Virginia where he was eventually bottled up at Yorktown and forced to surrender on October 19, 1781. Lord Cornwallis received little blame for the defeat from either the public or British press. After the Revolution, he won the reputation as one of the greatest generals of British history.
Portrait of Cornwallis taken from the original painting by Thomas Gainsborough